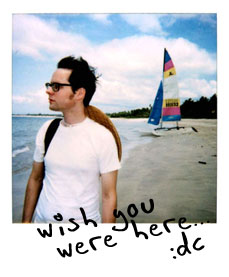 Professional Biography of Daniel Cavey

As a filmmaker I have primarily focused my experiences into the camera and sound recording areas of motion picture production.

EDUCATION
I relocated from Los Angeles to San Francisco, California after graduating in December of 1997, from Loyola Marymount University where I received a Bachelors degree in Film Production, and have been working professionally in film and video since January 1995.

EXPERIENCE
My title and role vary from Director, Producer to Editor and Director of Photography on numerous short films, as well as two-feature length DJ battle videos. As a Camera Assistant and/or Sound Mixer, I have stepped in on various Narrative, Corporate and Documentary shorts and features.

dear XXX
dear xxx a 16mm short film inspired by the Strictly Ballroom 7 inch single, released on Chou-Chou Records. Working with Brian Harding as my DP, I eagerly transformed the record cover insert into a film about a reclusive man alone in his house with his record collection. The release print premiered at the Hi/Lo Film Festival in March 2001. Other screenings to date include the Rooftop Film Festival in Brooklyn N.Y., the 2001 New Orleans Film Festival and the 2002 South By Southwest Film Festival in Austin Texas.

NORWEGIAN FILMS
Specifically, I have traveled four times to Europe with a core production team to collaborate with Frank Mosvold of Kool Produktions. Shooting on location in southern Norway, we recently wrapped on the feature film "Ingenting". Other films include "Kysset som Fikk Snowen til melte" and "Bolgene" aka "Waves" both of which have screened at Film Festivals around the world.

YAHOO!
Additionally I have been managing location work traveling up and down the West Coast as a DP/Producer for Yahoo Broadcast, covering over 140 corporate video events and presentations for the Investment Banking Community.

These "NetRoadShow" presentations involve transforming a Management Team's live Roadshow presentation into a synchronized streaming media format. The purpose is to provide the ability for qualified investors to either view a presentation they were unable to attend, or review before committing to an IPO transaction. Multiple video and audio versions are produced for the Internet; to expand the team's potential to reach the greatest number of investors in the shortest time possible.

KILLING MY LOBSTER
Since April of 1998 I have worked on and off as a rental technician at Adolph Gassers. In the meantime, the Killing My Lobster Sketch comedy group has kept me busy shooting and editing comedic vignettes for their production company and live stage shows. Recently, Eight plus Four, co-directed with Marc Vogl, was featured on ComedyCentral.com's spotlight on Killing My Lobster.

ZEBRA RECORDS DJ BATTLES
The "Best of the DJ Battles" come straight out of the basement as part of a two tape series that I produced with Zebra Records, highlighting both the monthly winners and contenders. The judges include rotating celebrity guest appearances by members of the Supernatural Turntables Artists, and Invisbl Scratch Piklz to name a few. Battles have been happening the last Saturday of every month starting back in November of 1998. A third tape covering the best of 2001-02 in currently in post-production.

KXLU & PHOTOGRAPHY
While working as a General Manager and DJ at KXLU 88.9FM in Los Angeles, circa 1995-97, some of my still photography was used both for MTV and as album artwork for Strictly Ballroom. MTV's "Beck-Behind the Music2" used my photograph while reaching into Beck's college radio roots. While other band photos were used as album artwork by Strictly Ballroom and for the KXLU Live Volume 2 compilation, a collection of live radio performances. During that time I also received the Director's Choice Award from the Laband Art Gallery in Los Angeles for "Photographic Distinction" for the black and white print "mosvold". Additionally, those images qualified me as a finalist in the Photographers Forum 1998 Photo contest.

UPCOMING PROJECTS
Forthcoming pilot programs are the "The Uncle Eye Show", produced by I-80 Productions in the Bay Area over the summer of 2001. It's a children's musical variety show, currently looking for distribution. I participated as a Camera Operator.

"How's It Done" is an inquisitive program that answers basic questions everyone has asked at one time or another. How, Why, What, Who and Where things come from. Rocket Dog Productions out of Los Angeles has slated the show for production in the spring of 2002. I will be working closely with producer, Kristina Schoentag, as a camera operator for this on-location show's premiere episode.